As a few people migth be aware, I'm a sort of 'born again' acoustic player these days. After years of playing with Strats, Les Pauls and sundry archtops, I've come to rest as a member of the unplugged fraternity.
I started playing acoustic guitar - my first instrument was a 3/4 size classical - and so I guess it's a case of 'coming home' in many ways.
My return to the ways of the flat top steel string was as a result of making an album a couple of years ago. To begin with, I was going to play
everything
on it... guitar synth, baritone, nylon string, archtop - you name it. But I was lucky enough to have Martin Taylor as my producer and he advised me to stick to acoustic so that the album had a uniformity all the way through. I took this on board as very sound advice and completed the album using a Yamaha LLX 500C.
Now, I have to say that despite spending years and years working on guitar magazines and reviewing all kinds of instrument, I had never really looked at acoustic guitars subjectively. You don't - the whole object of reviewing instruments is to remain unbiased and objective. But now, all of a sudden, I was an acoustic guitarist and that changed things for me. I became more interested in things like which woods gave me the best sound, which body shape was better for me personally and stuff like that.
I was really happy with the sound of the Yamaha, but thought that I could possibly improve things as long as I got the basic formula right - shape and materials, etc. I pondered on the whole question for a long time, visiting shops and trying 'off the peg' instruments, but nothing really floated my boat. I had narrowed things down to things like knowing I wanted a spruce top and rosewood back and sides, but most of what I found was either laminated or otherwise unsuitable. It put me in a bit of a quandry, to say the least; what's more, I was scheduled to be making album #2 early in 2009 and so getting something sorted soon became a priority.
As luck would have it, my friend Gordon Giltrap phoned me and I mentioned my dilemma to him. He offered to put me in touch with Roger Bucknall at Fylde Guitars in Penrith and, after meeting with Roger at the Cheltenham Acoustic Guitar Show and trying oodles of different models, I settled on one... This one: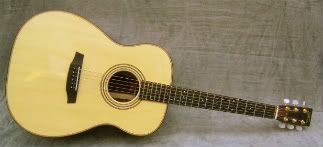 This is a Fylde Falstaff. The top is Englemann Spruce and I have asked for the back and sides to be upgraded to Brazilian Rosewood (or 'Rio' as it is called these days). The neck is Honduras Mahogany and the fingerboard is ebony. All-in-all this represents a brilliant recipe for a great sounding acoustic guitar and I must say that I'm incredibly excited about receiving it.
At present, it's being built for me and I hope to be able to post some pictures of the process some time soon.
Stay posted!