Excitement is rife here at Mead Towers as more pictures are coming in showing the construction of my new handcrafted acoustic guitar - a Fylde Falstaff.
In the first picture, the back of the guitar is being reinforced down the centre joint using spruce strips. The back of an acoustic guitar is usually a piece of bookmatched wood, which means it is a single piece of timber that has been cut in half parallel to the grain and opened out like a book. If you look at the Rio's grain in the pic, you'll see that each half is a mirror image of the other.
Next, the linings are being attached to the sides of the guitar. These are strips of wood that have been partially sawn so that they bend in a flexible strip along the guitar's extremities. The reason for this is that it presents a wider surface for attaching the top and back of the guitar using glue.
In the next photo, Roger Bucknall is cutting the top (or soundboard) of the guitar. This is master grade Engelmann Spruce - very straight, tightly grained wood which is native to Canada.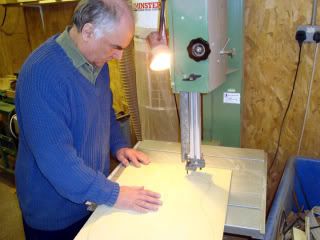 I can't really describe what it's like to see an instrument being created like this - one that I'm going to be making music with before too long. Obviously I expected to be a little bit excited, but in reality I'm like a kid waiting for Santa!