Over the past few weeks, we've been spying on the manufacture of my new Fylde Falstaff acoustic guitar. When we left it last, the body was enjoying multiple coats of lacquer - a lengthy process because obviously it has to be allowed to dry after each coat and I understand that there is some sanding involved in between, too.
Well, I'm pleased to report that the body has now received its full complement of lacquer and is nearly through the final 'resting' period where the last coat has to dry out thoroughly before the next process can begin. So here it is - one half of my new Falstaff, all dressed up and shiny, awaiting the time when it will be introduced to the neck...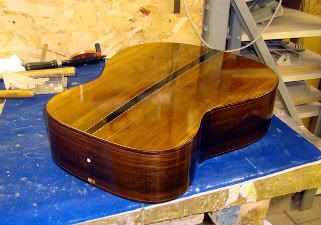 Talking about the neck, the last time we checked in, it was being shaped by Roger. Now, the final sanding process is being applied before it receives a coat or two of satin lacquer. This has the effect of giving the neck a slightly 'worn in' feel from the start - a high gloss finish on the back of a guitar neck might look great (although, let's face it, who gets to see it?) but there is a noticeable 'drag factor' on the hand. Guitarists (a funny bunch at the best of times) generally agree that a neck which has seen some action usually feels a little more user-friendly.
I'm told that these two halves are going to meet very soon - the neck will be attached to the body and the bridge put in place. Then the frets, pick-up and final trimmings will be sorted out and... Well, then I'll be driving up to Penrith to pick it up quicker than you can imagine!