The photostory of the master craftsmen at Fylde guitars making my new Falstaff acoustic is now complete with these three final pictures - although I will be posting a couple after I pick it up, no doubt!
This first picture shows the guitar awaiting its first set of strings...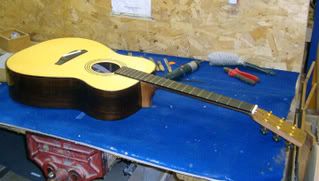 Once the strings have been put on, there is a bit of final adjustment to be carried out down at the nut...
Now, the guitar is ready for its first tune up. Obviously I've yet to hear it myself, but Roger Bucknall emailed me to say that it 'sounds lovely'.
So there you have it - the making of a Fylde Falstaff acoustic guitar from the day the wood was chosen right up to the time when it's all strung up and ready to come out to play.