Construction of my new Fylde Falstaff acoustic guitar is nearing completion and it's now time for the neck to be fitted. But first, some finishing touches: here, the body is receiving its final sanding.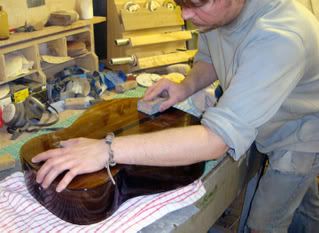 Next, the body is buffed to a shine...
The neck, too, receives some final attention - after the sanding it received in the last crop of pictures, it's now being fine tuned with wire wool.
Now the really critical stuff begins... First of all, Roger removes the lacquer from the body in the places where the bridge and fingerboard will be glued in place.
I must say, I really love this next picture - a sort of guitar-orientated still life!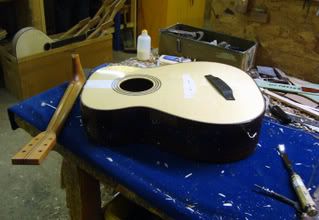 Now Roger makes the final adjustments to the heel of the neck before it's fitted.
After fitting, the fingerboard and bridge are both clamped in order to let the glue dry thoroughly.
And lastly, the frets are added.
You can see from the picture above that I'm not having any fretboard markers fitted. To many, this represents 'flying blind' but I think it makes the guitar look nicely understated. Classical guitars don't have markers on the fingerboard and I have always liked that look. It might take a bit of getting used to, but I've always got the dots along the side to keep me in the right place.
I'll be picking the guitar up next week - there might be one more batch of pictures to come before then, but they'll certainly be some afterwards!